March 13, 2023
Sleep is irrefutably linked to physical and mental health.
Just as we charge our cell phone batteries, sleep is how we recharge our bodies and our brains. While it seems that we do not have enough time in the day, it is so important that we don't cut back on our sleep hours. According to the National Sleep Foundation, adults over the age of 18 should receive 7-9 hours with school-aged children gaining 9-11 hours.
To assess how you're sleeping at night, ask yourself:
- Am I often tired?
- Am I using caffeine to get through the day?
- Do I sleep well?
- Do I wake up feeling refreshed?
- Do I get drowsy while driving or watching TV?
- Do I often lose focus throughout the day?
If you're answering yes to any of the above, maybe it's time to consider ways you can help yourself find better, more restful sleep. Consequences of sleep deprivation can begin with minor symptoms such as irritability, exhaustion, and distraction, while long term sleep deprivation can contribute to more serious issues such as weight gain, kidney disease, high blood pressure, cancer, heart disease, diabetes, and depression.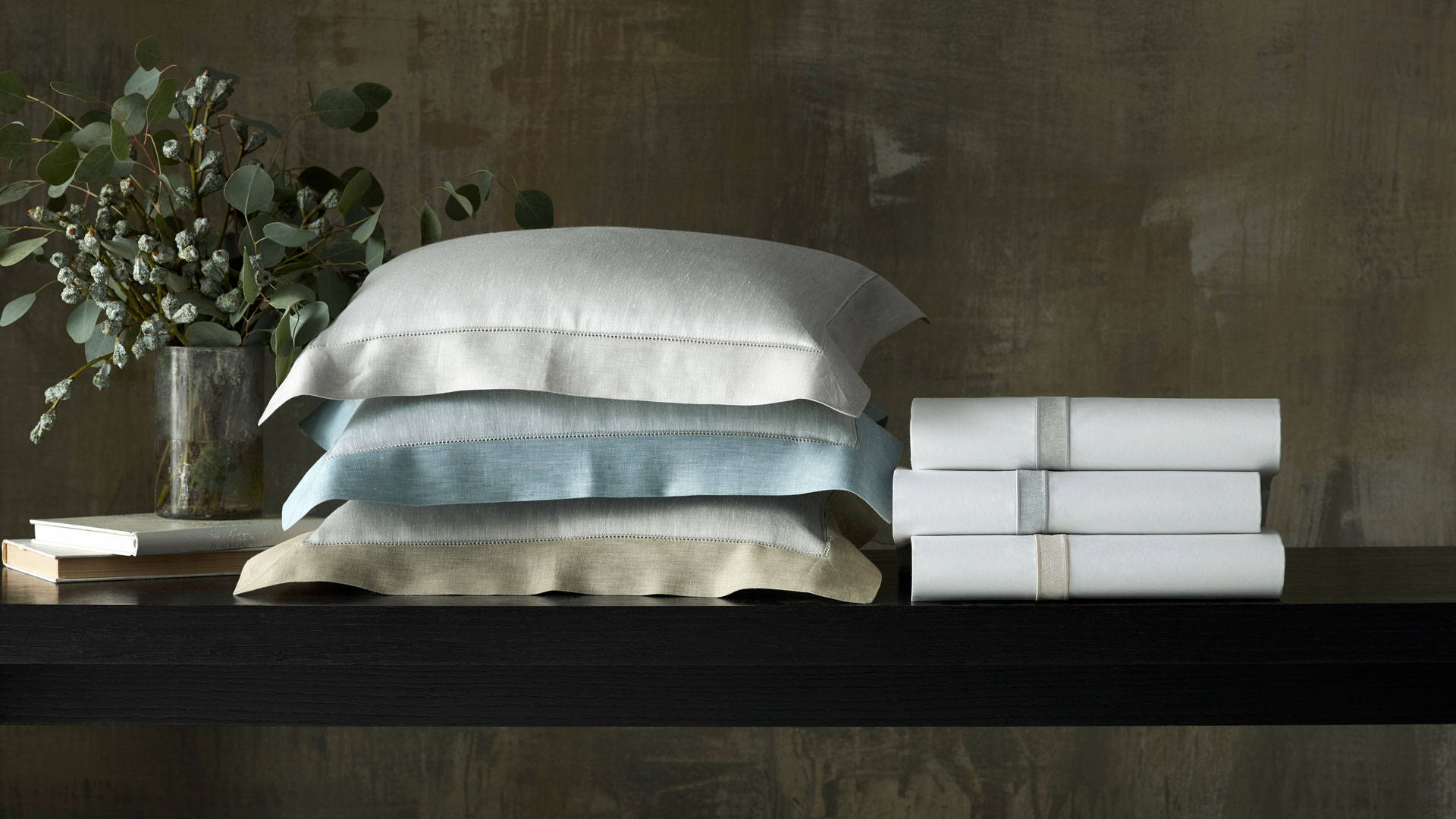 We consider it our mission to provide you with the tools necessary for comfortable living and better sleep! We'd like to help you start by changing your bedding to create an environment that makes you feel comfortable and nurtures a blissful rest.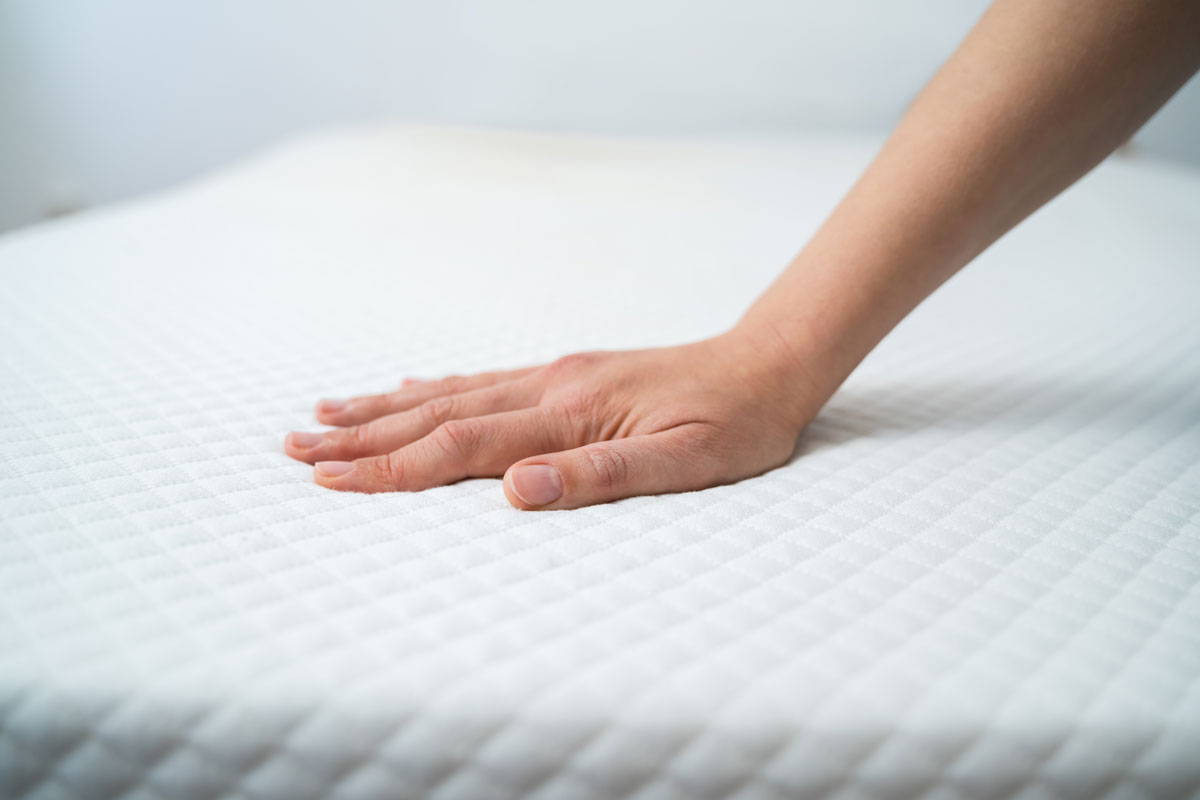 Your mattress is the foundation of your bedding and has the greatest impact on your back and neck's comfort. Consider it a worthy investment to choose top-quality mattress and pillows that help properly align your spine. If your mattress is over 7 years old, has visible signs of wear and tear, or you find yourself consistently waking with aches and pains, it may be time to replace your mattress.
When considering sheets, shams, and duvet covers, look for linens that are breathable because air needs to circulate around your body as you rest. No matter the climate, quality bedding will reduce the amount you sweat when you sleep, while keeping you dry and cozy. With sheeting in a range of thread counts, customizable sizes and materials we can help you achieve the perfect night's sleep. From the crisp feel of our Perla Percale, to our subtly textured Provenza Linen that helps wick moisture away, to the antimicrobial magic of our Athens Modal collection; we've got a range of choices to accommodate your sleeping needs.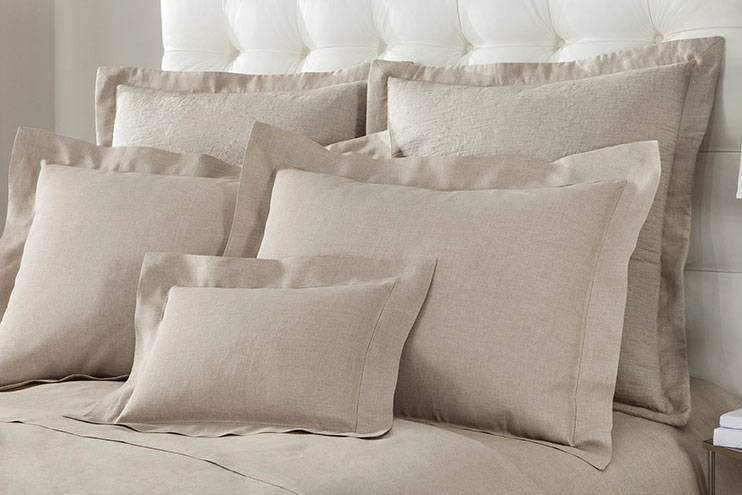 Want to learn more about the differences and benefits of each type of material we use in our bedding collections? Read Find The Perfect Sheets.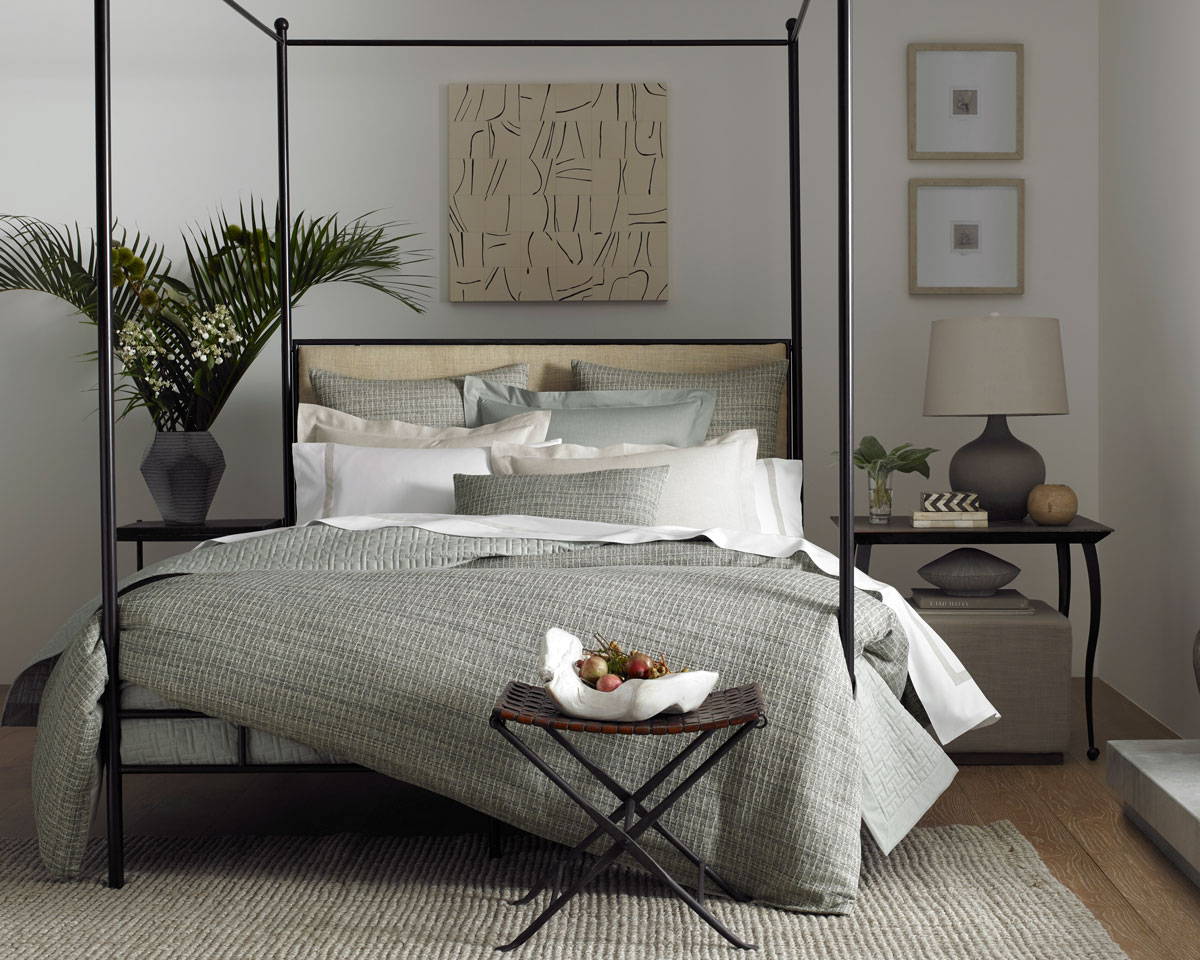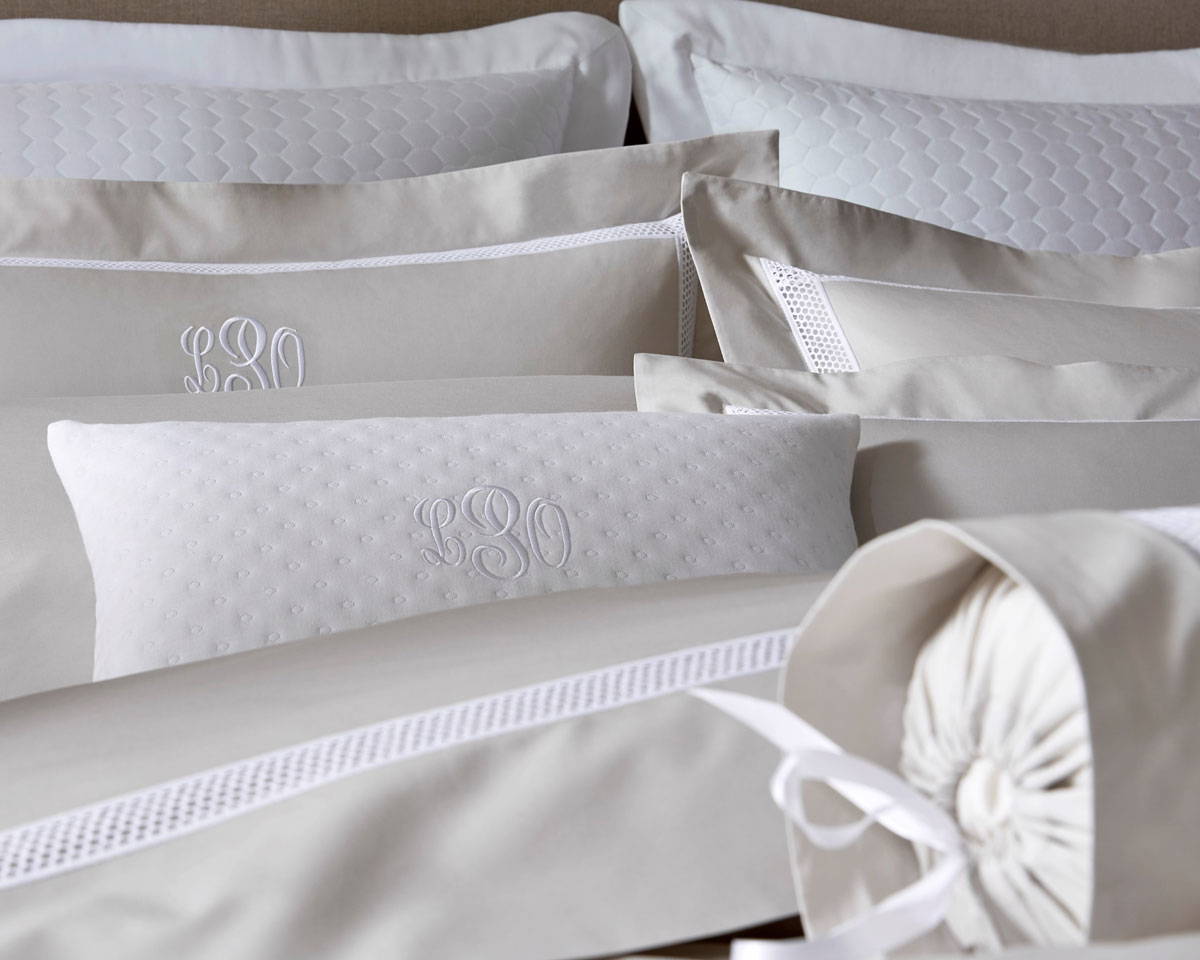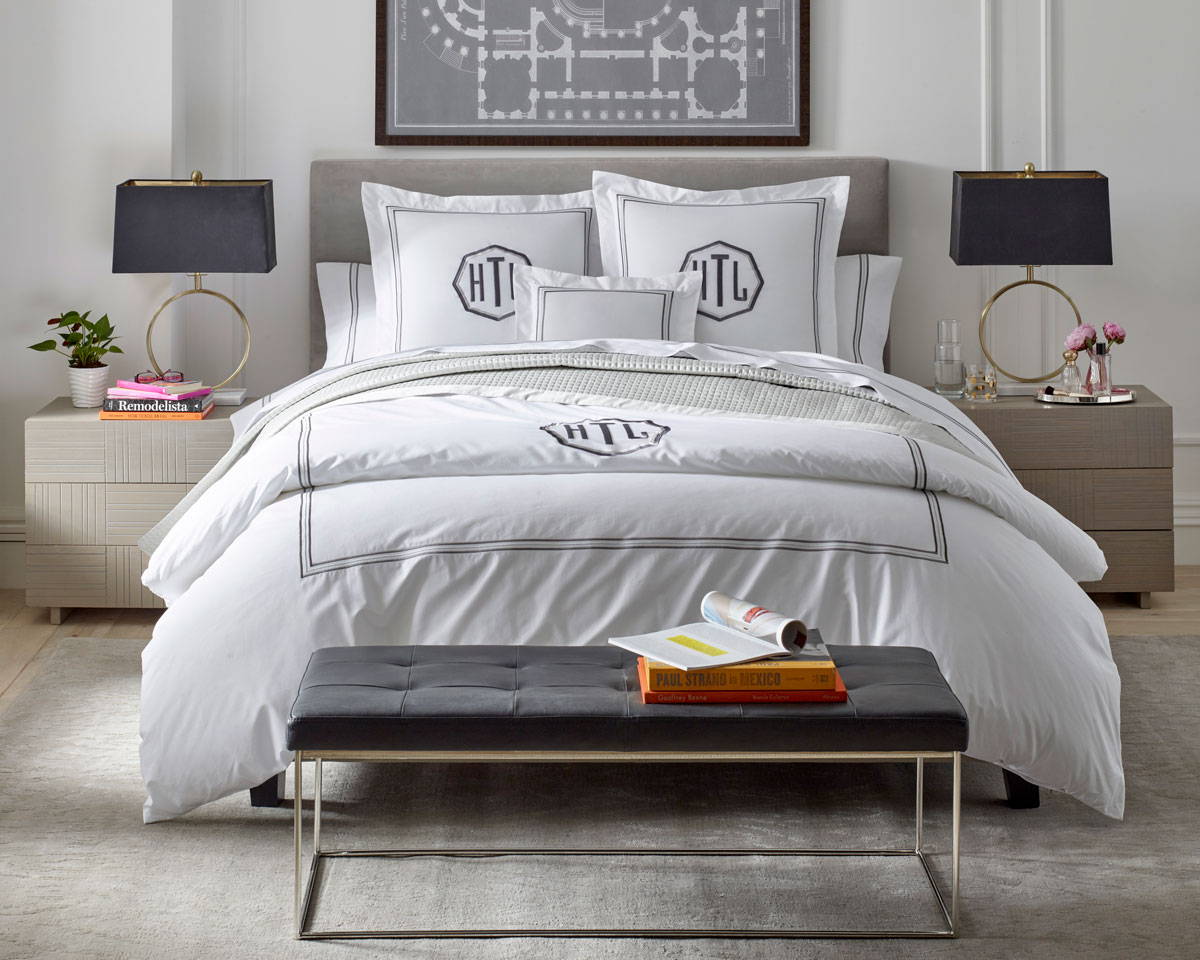 While the quality of your bedding materials should take priority, the style of your sacred sanctuary doesn't have to take a backseat. Refresh your bedding and update your beloved pieces to curate a personal space that excites you to wake up to each day. With the widest range of color options available in luxury linens, you can design bespoke pieces that are a true reflection of you.
Play with color, texture and pattern by adding layers to your bedding that serve as stylistic and functional elements. A quilted coverlet folded at the foot of the bed serves as an optional layer of warmth at night as well as a statement piece. Boudoirs, neckrolls and other accent pillows are a great way to add color and texture to your bed, while also enjoy extra back and neck support when reading.
---
We pride ourselves on exceptional and superior quality. By choosing from our offerings you're welcoming generations of commitment to providing the finest quality textiles. With over 35 years in luxury linens, Home Treasures Linens has worked endlessly to seek out and procure the highest quality materials for the most discerning tastes. With this commitment to quality, the bed you create is not only a personal reflection of your unique aesthetic, but also a space dedicated to providing the highest level of comfort possible. From the silky feel of our Plush 1000, to the delicate embroidered details of our Delancey Percale, to the heirloom softness of our Seychelles Linen, we've got a range of choices to accommodate your weave and design preferences.